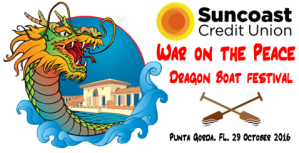 The Dragon Boat Festival, coming up Oct. 29, honors the rich fabric of ancient traditions that originated on the Yangtze river over 2,5000 years ago.
It's also a really fun day on the water!

Volunteers are still needed, and will receive a shirt, free lunch and water, and the kind of good, community feeling that money can't buy.

Visit WarOnThePeace.com for more information and to sign up, and get involved in a wide variety of other great events by registering with the Charlotte Harbor Visitors Bureau. 

Hope to see you there!