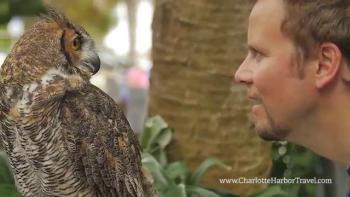 The Charlotte Harbor Visitor & Convention Bureau's destination video, "Experience The Charlotte Harbor Gulf Island Coast: 2016," which highlights the destination's nature-based activities, was recently honored by the Florida Outdoor Writers Association. The video earned the First Place Excellence in Craft Award in the Corporate/Tourism Promotion category during the organization's Awards Banquet in Palm Coast, Fla., on Sept. 17.
The video contains segments filmed by various videographers: Anton Fresco, David Sussman of DW Sussman Photography, Russ Weston, Alex Carabes, and Sean and Brooks Paxton of Shot Locker Productions.
Chip Futch, the Bureau's Director of Marketing, produced and edited the video, which was published in 2015 and used in the agency's 2016 marketing program to attract visitation into the Southwest Florida community of Charlotte County. 
The Florida Outdoor Writers Association (FOWA) is a not-for-profit statewide paid professional communicators organization made up of the outdoor industry's top communicators, conservationists and industry related companies with a mission to heighten the education of the outdoors.
Each year, the Charlotte Harbor Visitor & Convention Bureau conducts marketing, sales and promotional campaigns to increase awareness of and visitation to Charlotte County. In addition to generating economic contributions, the Charlotte Harbor Visitor & Convention Bureau is also focused on developing soft adventure or eco-tourism, a low-impact industry enabling the county to preserve the invaluable natural resources that contribute to its ecological health, distinguish the area, and draw visitors.
The award-winning video can be viewed on the Charlotte Harbor & the Gulf Islands YouTube channel at youtube.com/chgiflorida.