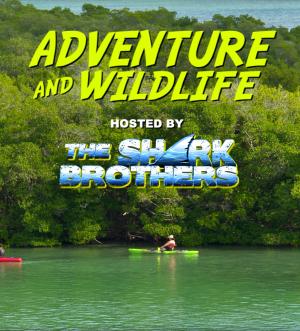 The online web series Adventure & Wildlife – Hosted by the Shark Brothers debuted Oct. 14 during a press conference at the Charlotte County Cultural Center.
Episode 1 of the series is available for viewing on YouTube.com/RealPureFlorida and is part of the Punta Gorda/Englewood Beach Visitor & Convention Bureau's marketing program aimed at attracting visitors to Punta Gorda and Englewood Beach interested in soft-adventure, nature-based activities and getting out to explore Florida's wild outdoors.
Episode 1 features recreational fishing, the importance of mangrove forests to Charlotte Harbor's ecology, and a wading trip in Charlotte Harbor with the Charlotte Harbor Environmental Center. Capt. Ralph Allen with King Fisher Fleet, Capt. Betty Staugler of Florida Sea Grant, and Chris Salmonsen, a naturalist with the Charlotte Harbor Environmental Center, are featured in the episode which has a runtime of 16 minutes. Additional episodes will be released at later dates featuring topics such as sea turtle nesting, area state parks and paddlesports.
The series is a collaborative effort between the Punta Gorda/Englewood Beach Visitor & Convention Bureau and Sean and Brooks Paxton who are internationally recognized presenters, filmmakers and homegrown adventure and wildlife personalities, also known as the Shark Brothers. Users are encouraged to share the videos on social media and use the hashtags #bestsideoutside, #ecologinomical, #thesharkbrothers and #adventureandwildlife