Press Release
Cultural Heritage Center of Southwest Florida
June 11 , 2019
On Friday, July 12th and Saturday, July 13th, 2019, the 2nd Annual International Culture Fest will be held at Fishermen's Village in Punta Gorda. It will be a celebration of cultural food, performances, displays, vendors, and more! The festival will feature over 15 live performances, and a wide variety of cultural vendors.
The purpose of the Cultural Heritage Center of Southwest Florida is to celebrate Southwest Florida's historical beginnings and the culturally diverse community that it has now become.
The CHC's mission is to celebrate the human diversity of the region. Cultural groups from Charlotte, Lee, Desoto, Sarasota, and Collier counties have come together to create the Cultural Heritage Center to celebrate all cultural contributions to the development and economy of the region. The ethnic and religious diversity of Southwest Florida makes it a rich and exciting place to live and visit.
The Cultural Heritage Center aims to be a place to learn and teach; and celebrate and embrace all cultures. Programs include, but are not limited to: inclusionary, multi-faceted, rotating culture, art, and educational exhibits; an annual International Cultural Festival; "mini culture fairs" for youth; trips and excursions; cooking classes; language classes; cultural/language immersion classes; language/culture camps for children and teens; inter-generational cultural activities between elders and youth; a cultural lending library; and Ethnic Food Festivals.
The CHC has provided rich community experiences such as the "A Trip Around the World" events at the Punta Gorda Library; participated in the successful events such as the "How To Festival" held at Mid County Library in Port Charlotte; and partnered with the Punta Gorda/Englewood Beach Convention and Visitors Bureau to create Charlotte County's most successful Annual Tourism Luncheon. The theme was Cultural Heritage Tourism. CHC member organizations from all over Southwest Florida provided the event's attendees with a 'Trip Around the World', with sights, sounds, tastes, and fashion.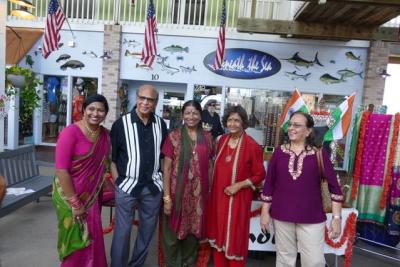 The CHC provides enrichment activities for children, such as "mini cultural fairs" at Cooper Street Recreation Center in Punta Gorda, and cultural heritage immersion experiences for pre schoolers and homeschooled children at the Collier Museum in Naples.
Florida Gulf Coast University, the Punta Gorda/Englewood Beach Visitor and Convention Bureau, and the Punta Gorda Historical Society are active partners with the Center.
The CHC is the only Cultural Heritage Center in the State of Florida and is certain to become a major tourist attraction for the region. It is currently located at FGCU's Punta Gorda campus, and will move to Punta Gorda History Park this fall. The Center will highlight our Old Florida pioneer beginnings and celebrate the growth of the region to the diverse, multicultural place that it has become today.
It is our hope that in being Florida's only Cultural Heritage Center, the CHC will add tremendously to the quality of life of our residents and facilitate robust Heritage Tourism to Punta Gorda and Charlotte County from throughout the state, country and around the world.
Please join us in celebrating each other at the International Culture Fest, at Fishermen's Village, from 5:00 PM –– 9:00 PM on Friday, July 12 and from 10:00 am to 4:00 pm on on Saturday, July 13th. The Parade of Nations will be on Saturday, July 13 at 11:00 am.
Fishermen's Village is located at 1200 W. Retta Esplanade, Punta Gorda.
Jaha Cummings
President, Cultural Heritage Center of Southwest Florida, Inc.
Councilman, City of Punta Gorda